Info
Winter events: 2/12/2022 – 8/1/2023
Info: +32(0)80 799 635 tourisme@malmedy.be
Programme
The greedy Christmas delights: 2/12/2022 > 1/1/23
The roller rink: 2/12/2022 > 8/1/23
Christmas cribs circuits & quiz: 10/12/22 > 8/1/23
Find the pair: 10/12/2022 > 31/12/22
In search of the Christmas reindeers: 10/12/22 > 8/1/23
Bonus: A little extra gift?
In this festive season, the Royal Syndicat d'Initiative has decided to spoil you. Take advantage of this opportunity to try to win extra gifts.
Take part in our 3 contests (Christmas cribs circuits & quiz, Find the pair, In search of the Christmas reindeers) and automatically take part in our special year-end prize draw.
Prizes to win:
2 x 1 escape challenge
2 x 1 show ticket (value €50/seat) at the Scène Intermills
1 x 1 Studio 20 karaoke (for 12 people)
10 x 2 cinema tickets at Moviemills
In collaboration with Intermills group.
Brochure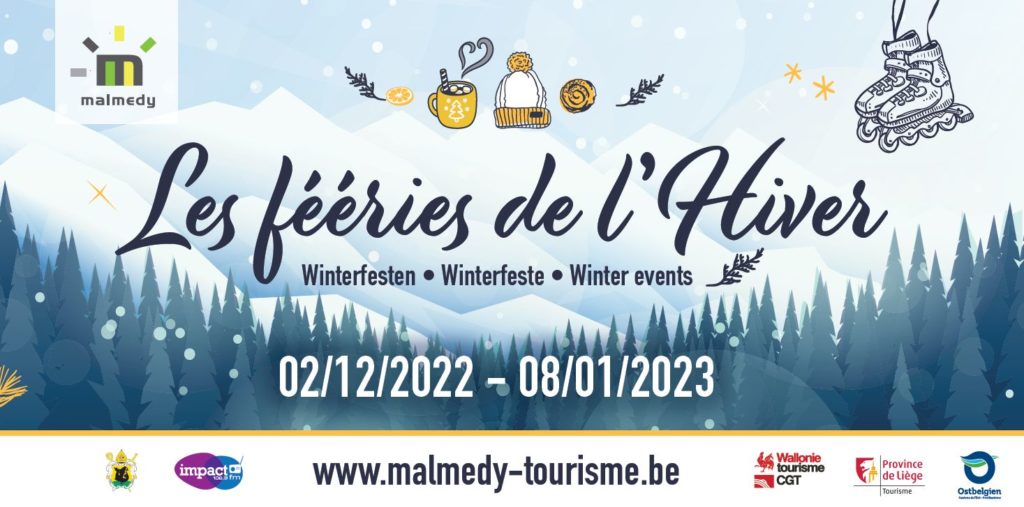 Winter events: entire programme